The Mirador Broadcast- Volume One
---
Miramonte (Equi)Teams Up to Combat Hate
The intercom system crackled and chemistry teacher Jennifer Moore told her students to listen up. Students sat in a stunned silence as principal Julie Parks announced that a hate crime had been committed on campus the week before.
During the week of May 28, a Miramonte student wrote the n-word inside an African American student's PE locker. In a public statement, Parks explained that it had been done to intentionally make the student feel threatened and unwelcome, deeming the incident a hate crime. Parks also offered an award for any information about the incident.
Students murmured in bewilderment after Parks' announcement. Moments before, the majority of students were unaware of the incident. In disbelief that such a thing could happen at what most consider to be a very liberal, privileged school in the Bay Area, the announcement of the crime shocked the student body. "Miramonte prides itself on being an accepting community, but with a predominantly white student population, there's no doubt that racism often rears its ugly head. We like to idealize the Bay Area as a mini utopia where prejudice is nonexistent, but when something like this disrupts our vision, we're quickly reminded that hate isn't confined to certain states, borders, or areas," junior and EquiTeam president Zahra Hasanain said in a Facebook post. The incident has shaken Miramonte and provoked a response by the students, lead primarily by EquiTeam.
On Tuesday, June 6, students arrived at school to find the hallway lockers lined with colorful post-it notes and the ground covered with messages written in chalk. The quotes conveyed messages about lack of tolerance for racism and hate. Scripted in chalk on the concrete of the hallway ground, phrases such as "choose love, not hate", "diversity is cool, hate is not", and other positive messages encouraging inclusiveness, pride, and respect for one another guide the students forward.
In the wake of the crime, Miramonte EquiTeam and the student body has come together to support one another and "make the victim of the hate crime feel a little more welcome and accepted for who they are," Hasanain said. Hasanain explained that by decorating the school with positive messages in chalk and on post-its, EquiTeam hopes to "promote love and celebrate our differences." The club has since developed and publicized #NotMyLockerRoomTalk to continue the response.
While the rain may wash away the chalk on the ground and the wind may blow away the post-its on the lockers, the message will remain strong: racism, hate, and bullying are not tolerated in the Miramonte community.
---
Matadors Celebrate Women in Leadership Day
On Tuesday, May 23, Miramonte's Orinda Juniorettes Club hosted their annual Women in Leadership Day. Led and organized by presidents Leila Minowada and Lara Sanli, the Juniorettes celebrated with a lunchtime activity and a panel of women in leadership positions after school.
After weeks of preparation, the Orinda Juniorettes Club, or OJC, treated Miramonte with a day to celebrate and recognize women in society as well as their achievements. Prior to Women in Leadership Day, posters were hung around school with quotes from well-known women in the world that touched on feminist issues.
During lunch, students were encouraged to write on a slip of paper the name of a woman in their life who is their role model or inspiration. With over 150 participants, the entire poster hung on the side of the gym was covered with shout-outs slips from students who wanted to commemorate someone special in their life. "I shouted out Hillary Clinton because she is strong and inspirational," sophomore Dara Kazmierowski said. The Juniorettes were pleased with the turnout and success of the activity: "It was a huge success," said Minowada. "It was so fun to read the shout outs to women in leadership that Miramonte students appreciate."
Later that day, students were invited to a discussion with a panel of leaders in our community, ranging from the mayor of Orinda to a local Rabbi to a research scientist. Speakers on the panel included mayor of Orinda Eve Phillips, Orinda Union School District board member Julie Rossiter, Rabbi Nicki Greninger from Temple Isaiah, pharmaceutical research manager Min Li, and attorney Latika Malkani. With about 80 students present, the panelists had an interactive discussion with the audience about their jobs and how they got there, as well as their successes and any obstacles they experienced, regarding gender in particular. "It was really interesting to hear about the biases, successes, and general life stories of all the women who participated in the Women in Leadership panel," Minowada said. Audience members heard about what it is like to be a working women in addition to having a leadership role, and received advice as to how they should live their lives and continue the feminist movement combating sexism in the workplace. "Speak up and take it on," Malkani said. "You have to challenge people's beliefs. That's how society changes, when people call other people out." When talking about her experiences as a young, female Rabbi, Rabbi Greninger described encounters where she felt underestimated or intimidated: "When I tell people I'm a Rabbi, some people can't believe it. We can't assume that women aren't capable of doing things, especially the same things as men. We just have to keep trucking along and opening these opportunities to everyone." Students were encouraged by the panelists to speak up, advocate for themselves, be proactive, and follow their passions when moving into the future. "I think the panel was successful in showcasing a wide variety of inspiring women who gave same great advice regarding the challenges they face in their field of work," junior Sienna Marley said.
"There was a great turnout to both the lunchtime activity and the panel," Minowada said. The Juniorettes finished off their year and said goodbye to their presidents and other senior members with a win for feminism, and hope for the same, if not better, outcome next spring.
---
Administration Cracks Down on Substance Abuse in Bathrooms
Students taking daily excursions to the bathroom has been a common theme this entire year in Miramonte life. Recently, Miramonte Administration has been cracking down vaping and smoking in bathrooms around campus.
The last couple of months, teachers, as well as on campus security guards, have been notified to keep track of students who consistently leave during their period. This has all been a measure to prevent students from vaping and smoking in school bathrooms in the middle of the school day. "Obviously we are trying to stop substance use at school," Assistant Principal Jan Carlson said, "so we have asked teachers to monitor students who are leaving, especially those who ask every day and are consistently gone for 7-10 minutes."
The school's security guards, who constantly comb the campus, are also looking for these 'red flags' of students who aimlessly wander. "We are not only concerned about substance use, but also about the safety of the students," Carlson said. "We are responsible for all students, and when they are gone for more than 10 minutes, we begin to worry about where they are and if they are safe."
---
Spring Fling Dance was a Hit
There is no better way to celebrate the blossoming flowers and the intermittent rain showers than the annual Miramonte Spring Fling dance. On Friday, April 38th, Miramonte students from all grades attended the "Under the Big Top" circus-themed dance from 7:00 to 10:00 pm at Miramonte.
Many students from the leadership class helped prepare and set up the dance. The party planner company, Events to the T, was an essential part of the preparation. Both underclassmen and upperclassmen wholeheartedly supported the decision: "The decorations were really unique and cool," sophomore Allie Hughs said. Unlike previous dances, students filled the gym as well as the entire quad. Inside the gym, there was a DJ and lots of room for dancing. Outside, many carnival games scattered the quad, including a hike striker, ski ball, and a ring toss. Cotton candy was a popular option amongst students too. Along with the games, there was a woman on stilts walking around and a magician that fascinated all who watched: "The magician was actually magical," sophomore Sophia Pinto said.
Although this seemed like a hit for the majority of those who attended, some students felt that the dance didn't meet their expectations. "The idea of the dance was fun and clever, but everything was spread out too much and the DJ played old music which wasn't that fun to dance to," sophomore Justin Alvarado said. Some students weren't a fan of the dance's theme either: "It was confusing to dress up for and some of the entertainment was creepy," Pinto explained.
Despite there being positive and negative opinions on the dance, many people attended. Those who did come participated in the various activities offered and danced to the music."Our goal is to make next year's dances fun and and different than previous dances," sophomore leadership student Amanda Glynn said.
---
Spring Rally Ramps Up School Spirit
Blow-up hamster balls, light saber battles, and a staff band were just a couple things that were featured at the spring rally last Friday. As students geared up for APs and finals, the spring rally proved to be a nice stress-reliever, complete with lots of good laughs and positivity. "The lightsaber battle looked very cool in the dark gym. [Rally leaders] really know how to handle lightsabers and did a great job of riling up the crowd," senior Nolan Brown said. The long-awaited rally video received positive feedback as the leaders used a drone to film some new and improved footage. "Since the rally video is one of the things that students really pay attention to, the rally leaders make sure to create an engaging video each time. The drone was a really nice touch and offered something new," senior Kathryn Silveira said.
Not only did the students have fun, but so did the administration and staff that attended. Rally leaders made sure to include staff in a staff cheer and welcomed a staff band that played the fan-favorite oldie "Sweet Caroline". "I loved the spring rally this year. I can finally understand and follow the videos. I am very happy that the staff is more involved. I think— to quote Mrs. Sorenson— we need more teacher 'zaniness' around campus. When the teachers do things like the staff band, staff vs student basketball game, dance at a rally, etc. it really improves the school climate and culture. It's similar to when you have your teachers high five you on a Friday before class. It just brings everyone's attitude up," band member and teacher Nadar Jazayeri said. He encourages leadership to "keep up the good work".
All in all, this year's spring rally proved successful due to an abundance of school spirit. "I'd say this was my favorite rally this year. The whole thing turned out better than I had expected. My personal favorite part was the staff band because of how involved and supportive the student body was," rally leader Robbie Tennant said.
---
Mats Cheer Wins National Championship
The Miramonte Competitive Cheerleading Team placed first at the USA Spirit Nationals at the Small Varsity Show Cheer Novice division. The event took place at the Anaheim Convention Center from March 24th to the 26th.
The MHS Comp Team pulled ahead from the eight other squads to secure first place over the two day competition. After their first performance on Friday, Miramonte secured first place and lead the pack by a comfortable 1.6 points. On day two, El Modena and Lake Oswego High School made an impressive come back and pulled ahead, taking first and second place for the day two performances. But overall Miramonte pulled ahead by .18 points to secure the National title.
"We thought Covina High School was going to be our biggest competition but they ended up getting fourth," junior Olivia Kaufmann said, "but we were happy we pulled ahead because .18 is extremely close."
In order for a high school cheer squad to be eligible for nationals they have to receive a certain qualifying score at their competitions throughout their cheer season. Miramonte qualified for nationals at their first competition of the year in Santa Cruz. The team, however, decided to continue competing to get more practice.
This win marked an emotional ending for the seniors on the team as it was their last high school cheering competition. Last year the Miramonte Competitive Cheerleading Team also took first place at the USA Spirit Nationals.  
---
Storm Headed to Northern California
Kayaks, canoes, snorkeling gear, boats, and other flotation devices will be necessary this weekend as Northern California is expecting large amounts of rain and horrible flooding. In fact, the LA Times called it a "once in ten year storm."
At least three storms are forecasted, dropping three to four inches of rain across the bay by Monday, according to Mercury News. "It's not a lot of little storms, these are significant rain producers," Jan Null, a meteorologist with Golden Gate Weather Services in Saratoga, said.
This amount of rain poses a possible threat. SF Gate advises people to not attempt to drive on or walk across roads that appear to have more than six inches of water. Six inches of water can potentially move a car or knock a person over.
Long gone are the days of hitting the slopes, and then a few rocks. The Sierra Nevadas are expected to receive 10 feet of new snow from the upcoming storms. The Tahoe Tribune stated that Lake Tahoe Basin's snowpack has already increased from 62% to 129%. Students planning to make the treck to Tahoe this weekend can expect heavy traffic due to road closures.
However, dead lawns and restricted water usage are not things of the past yet. According to National Broadcasting Company, 81% of California remains in a drought today. Southern California remains under the most severe drought conditions in California. Most of Northern California is supposed to be out of the drought by the end of this winter.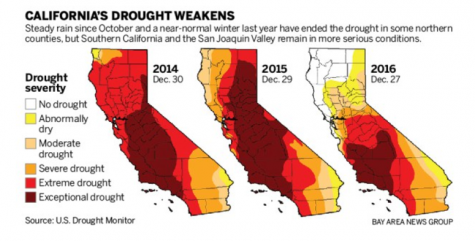 ---
Breakout Session Inspired by Need for Community Discussion
"What words hurt you?" Teachers around the school sat with their students last Thursday to engage in a discussion about acceptance and diversity. Students saw various pictures of graffiti and notes that contained hate speech, some of which were found at Miramonte. The discussion was opened by a video from Ms.Parks, and closed by clips of Miramonte students choosing adjectives that described them best.
The decision to hold this session started from observing the national and local disunion, and feeling that there needed to be a sense of community and coming together, Assistant Principals Jan Carlson and Zac Pinkerton said. Concerned about unrest, administration wanted to have a conversation that was personal and more conducive to understanding than a regular assembly. With the help of the "Equiteam," composed of the presidents of clubs dealing with social issues such as the BSU and LSU, administration crafted questions for the breakout session.
The hope was to create a place in every fourth period where students felt comfortable enough to have a conversation because they already knew the people they would be talking to. Additionally, a large assembly would have been impersonal, and the point was to speak directly to each other. "It's one thing to have an adult tell you not to do something 'because I said so,' but it's another to hear a peer say 'this hurts,'" Carlson and Pinkerton said.
In the future, administration hopes to see the effects of this new method of preventing an issue before it becomes a problem
---
City Supports Downtown Orinda Renewal
Orinda is in close proximity to many vibrant communities, but many Orinda residents feel that their city's vivacity is lagging behind.
Orinda City Councilwoman Darlene Gee champions this sentiment. "There are quite a large number of residents that would like to see more options," Gee said. "They routinely utilize lots of services, restaurants and shopping in neighboring communities and a large number of them would [prefer] a more vibrant downtown Orinda."
There has been debate as to whether the city government should invite and pay for panels of professional architects and developers in order to have expert input in the process of revivng the downtown. That debate ended at a recent city council meeting, when four of the five council members voted to engage both the Urban Land Institute (ULI) and Mainstreet America (MSA), which will cost the city a total of $36,000. Orinda Vice Mayor and City Councilwoman Eve Phillips voted against the measure, as she seemed concerned about potential conflicts of interest and the motivation of the panel members. "I think bringing in consultants like ULI, especially one driven by the building trades including engineering, architecture, and development firms, will only create more division in our community," Phillips said in an email. Councilwoman Gee, however, believes that the city council needs to strike a balance. "We want professional expertise—that is very important," Gee said. "On the other hand, we clearly want our own community to define its future. We want to do what the community wants to do."
What's Up Downtown Orinda (WUDO), a group of interested Orinda residents, is working to drive change and further discussion on the renovation of downtown Orinda. Its members have attended city council meetings and pushed for change over the past year. Hillary Murphy, a member of the WUDO steering committee, made it clear that WUDO is not waiting around. "When we find ways we feel we can move things forward, we act," Murphy said. "For example, we were active supporters of two pro-downtown renewal candidates for Orinda City Council: Darlene Gee and Inga Miller, and we lent our support to help get them elected. We are also doing our part to support the businesses that are already here."
Gee has no issue with the group, even praising their ability to start a conversation. "I think that it has been a very good voice for raising the issue and asking the council and community to consider changes," Gee said. "They are a reflection of changing demographics in the community, and they've raised good questions and started a good conversation."
Phillips isn't convinced that the solution lies in the General Plan, however. "It's not at all clear to me that our plan is the problem, so I don't know that we would need to change our plan to drive downtown change," Phillips said. " I think a concerted effort to work with property owners and potential businesses could help drive the changes that our residents want to see."
Prior to last month's City Council election, there was a discrepancy between the four candidates on the amendment to Orinda's General Plan. After being elected to a four-year term, Gee believes that the council should keep an open mind. "I'm open to looking at some flexibility," Gee said." I think a small portion of this community has been so vocal about not [amending the General Plan] that they've kept the process at bay for a long time, and I think it's time to take a look at it."