Governer's Budget to Impact AUHSD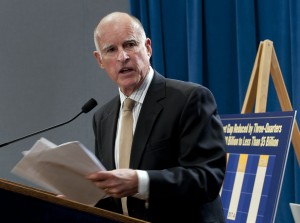 In early January, Governor Jerry Brown announced his 2012-2013 Budget Plan.  If passed this plan would raise taxes on high−income earners and would increase the sales tax by half a percent.
Although scheduled to end within five years, this plan would generate an extra $7 billion for California.  It will be added to the November 2012 ballot.
Brown's main goal is to reduce spending by $12.5 billion, use $12 billion for modifications and revenue extensions; and put $1.9 billion towards solutions to close the $1 billion reserve gap.
This plan includes an 8 to 10 percent cut in pay for state employees, including the already underpaid public school teachers.
If voters reject the tax increases, Brown proposed an alternative plan.  This would cut $5.2 billion in public school funding, including $4.8 billion from K-12 and community college education.
In Brown's original plan, K-12 education was spared of tax cuts.  "Schools have borne the brunt of spending reductions in recent years," Brown said in a press release.  "This budget [the November budget plan] maintains funding at the same level as the current year."
"I think previous budget cuts have had a significant effect.  We were fortunate in that we passed a parcel tax," Parent's Club President Sandra Breber said.  "That made a big difference, and not all districts are able to do something like that."
According to the School Finance Bulletin, a parcel tax is the common term for a school district "qualified special tax."  These parcel taxes can be used for virtually anything.   The law does not specifically limit how the tax proceeds may be spent, but the school board can impose any limits it wants to in the ballot measure.
"The Parcel Tax has been a life saver.  Without the Parcel Tax and without the Parent's Club, EFO and Boosters, we would have had to make even more cuts," Principal Adam Clark said.
Brown would cut $200 million from both the University of California and Cal State University systems, and over $4 billion in welfare and health costs.
"They are always going to have debates when deciding what to cut.  We look at what we need for our students to graduate, and then what they need to be eligible for the UC schools," said Clark.  "Class size is probably the biggest thing they would look at when cutting programs."
"Ways that budget cuts affect us could be larger class sizes and possible loss of programs," said Clark.
These budget cuts are raising concern among school districts throughout California.
"Our Parent's Club, EFO, and Boosters, provide additional money that we use to add extra classes," Clark said.  "They provide money to buy supplies and add services that we wouldn't have without them."
The Parent's Club's objective is to foster academic excellence by raising funds and providing volunteers to support and enhance the educational experience for all students at Miramonte.
"We are very fortunate because we live in a community where parents are very supportive of the school and education of their students," Breber said.  "And they continue to be."
Previous budget cuts have already caused a money struggle at Miramonte.  "It started in 2007-2008, and since then, we are actually being funded 20 percent less than what we should be funded at per student," Clark said.
"We have increased our funding over the last three years," Breber said.  "So as the school has experienced difficult situations with the state funding, we actually provide more."
"The money can be directed differently year to year depending on what the needs are," Breber said.  "Because enrollment goes up and down, the composition of the student body could possibly have an impact."
The Miramonte administration knows how to be frugal with school funds.
"We save money in lots of ways," Clark said. "First of all, our office staff is cut back, and we are very prudent with our use of supplies. We charge outside users to come in and use our facilities, and we are continuously reviewing our budgets to make sure we are using funds appropriately, trying to keep the money we use as close to the classroom as possible."
Due to these cuts, schools have been forced to compensate in other ways. "We have higher class sizes, we have less office staff, we have less support staff, we have less staff development days, all of us [Miramonte staff] have taken furlough days," Clark said.
According to the Acalanes Union High School District Associate Superintendent of Business Services Chris Learned, the district has built up its reserves to prepare for possible budget cuts.
Reserves are money put away and not needed for immediate use but available if required.  "We have reserves as well," Breber said.  "We hope we don't have to use them, but if you have to, then you will."
If budget cuts were put in place "we would evaluate programs to assure efficiency and reduce or eliminate inefficiencies and rely on reserves," Learned said.
Schools may also be forced to cut programs.  "That decision would be made at the district level, and it may be programs that have the lowest enrollment and ones that are least popular," Clark said.
If programs were to be cut, "an evaluation would have to be completed before making a recommendation," Learned said.
"Even with all the cuts that have taken place, and being funded 20 percent less, we are still the best high school district around," Clark said. "Being able to offer the programs and the support that we do offer, and being able to have such high student achievement in the midst of this big budget crisis is just a great accomplishment."