Food, music, and friends: what more could you ask for? Every Thursday night from 5-8 p.m., Orinda citizens gather to spend time together and try new foods at the Orinda Community Center's weekly food truck event.
The Thursday evening food truck event stretches from early April through the summer and ends in late October. The event is jointly sponsored by the city of Orinda as well as Taste of the World Market Inc., a local food truck event organization that organizes food truck events around the Bay Area. The trucks at the venue consist of four savory options, one dessert, and one alcoholic vender, creating a perfect opportunity for residents to experience a sense of community while enjoying some delicious food. This event was started to strengthen the connection among community members and provide a recreational night for families to enjoy.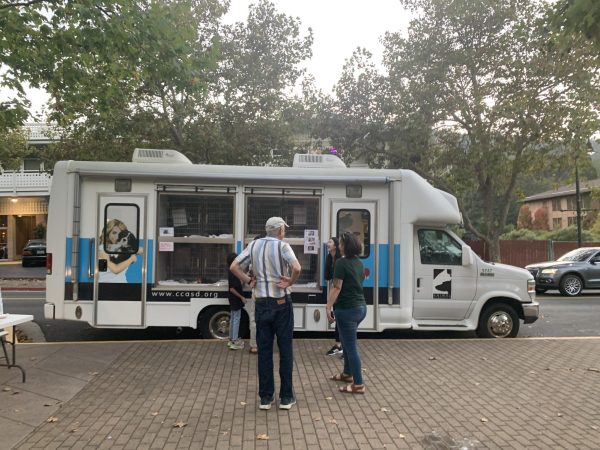 "We try to come here every other week or so. I bring the girls and they run around at the park with the other kids while my husband and I chat with friends and have a beer," Orinda mom Michelle Curran says.
Located adjacent to the Orinda Park, the event provides convenience and security, making it a family-friendly function, perfect for young kids while also offering food that can be enjoyed at any age.
The food trucks at this event offer a variety of diverse cuisines. Roadside SF is a rotisserie truck offering chicken and ribs as well as many sides to go with, including scrumptious potatoes roasted in the seasonings and juice of the meats. Additionally, Ofie's Kitchen, known for its exquisite burgers with tons of fry differentiations and side options, is a perfect truck to stop at.
"I've loved working at the Orinda events this summer. The atmosphere is super friendly and the business is good. I look forward to coming back next year," Ofie's Kitchen head chef says.
Ceviche & Co. is another great option, serving fresh fish with local ingredients along with traditional Ecuadorian dishes. King Gyro & Kabob, using 100% halal meat and poultry, provides attendees with a Mediterranean option to spice up their flavor selection. The current sweet treat option provided is Bubble Cone, a truck providing both sweet and savory twists to the traditional bubble waffle originating from Hong Kong.
"My favorite food truck is definitely the Bubble Cone truck because they have really good ice cream and waffles and also interesting savory options," junior Audrey Kosla said.
Lastly, the Guzzler Bar-on-Wheels allows adults to purchase wine and beer to kick off the weekend.
Nestled in the heart of Orinda, the Thursday food truck event is a great way to try new foods and meet new people. Hurry to attend a night of fun before this weekly occasion comes to an end for the year.