Students Attend Welcome Back Dance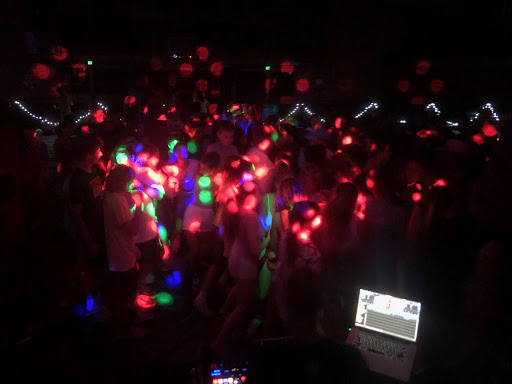 Miramonte students celebrated the first week of the 2019-2020 school year by attending the Welcome Back Dance Friday, August 16. Freshmen, sophomores, juniors and seniors started to enter the gym at 7 p.m. wearing pajamas to fit the theme: Back to Sleep.
Miramonte's Leadership class was in a time crunch to plan for the first dance. However, with the help of the new Leadership teacher, Jeremy Foltz, the class was able to execute their plans. "Foltz handled the first dance really well," ASB Secretary Aki Neugebauer said. "It is always stressful going into the first week of school while simultaneously having to plan the first dance, but I think Foltz did a great job."
This year, students were able to take pictures with their friends at the photo booth located inside the gym. Props like hats, signs and a colorful backdrop were available to the students to make their photoshoot picture perfect. "I had a great time in the photo booth taking some fun pictures with my friends," sophomore Dax Sherwood said.
The Leadership class contributes in deciding the theme of the dances. "As a class, we come up with around 15 ideas, and then we vote to get the top three and then vote again for the final theme," Neugebauer said.
Students appreciated the decorations like the confetti-filled balloons and lights, which made the dance even more memorable. "The Welcome Back Dance is definitely my favorite dance of the school year," Sherwood said.