Anti-Quarantine Protests Occurring Across the Nation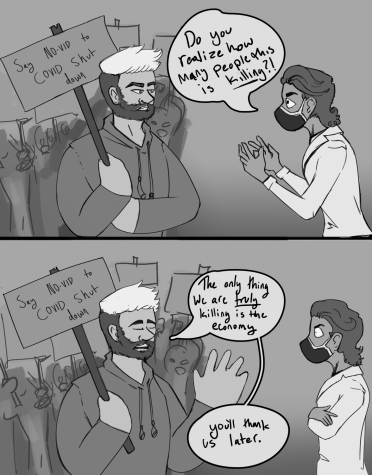 In the past week, protestors from over a dozen states, led by both Democratic and Republican governors, engaged in anti-lockdown movements. Some of the biggest protests occurred in Washington, Colorado, and Michigan where the protesters gathered to challenge the social distancing guidelines put in place to "flatten the curve" of the COVID-19 pandemic.
The main reason for protesting was the belief that stay-at-home orders imposed by state governments are an overreaction and that keeping these restrictions for too long will damage local economies. "It's hard for everyone to stay home, but I think it's important to slow down the number of cases," junior Lindsay Hemming said.
Also, protestors worried that the safety measures violated their Constitutional rights. According to an interview conducted by the British Broadcasting Corporation, the organizer of a protest in Washington D.C., Tyler Miller said, "We believe that the state governor has gone beyond his constitutional authority in shutting down businesses and ordering people to stay at home."
After these protests occurred, Southern states like Texas, Georgia, and Tennessee relaxed their lockdown restrictions. According to guidelines issued by Tennessee governor Bill Lee on his website, he announced restaurants are now allowed to serve at 50 percent capacity and retail stores are open under the same guidelines. Although some states are beginning to ease restrictions, most of the nation remains under some form of stay-at-home order.
Apr. 19, a demonstration occurred in Olympia, Washington, with an estimated 2,500 protestors according to local police reports. It occurred at the Washington State Capitol to encourage governor Jay Inslee to lift the stay-at-home order. Washington had America's first confirmed case of coronavirus in January and now has 14,070 confirmed cases. Apr. 17 Washington legislative leaders released a plan to reopen the economy which includes construction and landscaping.
In Denver, Colorado, a similar demonstration occurred with hundreds of protestors. Most arrived at the protest in cars, trucks, and buses, honking their horns as they drove down the street. Healthcare workers confronted the protestors in a counter-protest by blocking traffic. Colorado has confirmed 14,316 COVID-19 cases and 736 deaths.
"You're allowed to protest. I mean, they feel that way. I watched the protest, and they were all six feet apart. I bet it was a very orderly group of people, but some have gone too far. Some governors have gone too far. Some of the things that happened are maybe not so appropriate, and I think in the end it's not going to matter because we're starting to open up our states," President Donald Trump said during a press conference on Apr. 19.
The White House states, "President Trump has unveiled Guidelines for Opening Up America Again, a three-phased approach based on the advice of public health experts. These steps will help state and local officials when reopening their economies, getting people back to work, and continuing to protect American lives." The phases consist of easing restrictions on businesses and social life while still maintaining social distancing.