To Keep Yourself Occupied During Quarantine, Try Cooking These Mouth Watering Recipes
As we enter the second month of quarantine, students are coming up with more and more ways to keep themselves occupied, whether it's getting active or learning a new skill at home. A popular choice is spending time in the kitchen and trying out new recipes.
Although senior Boo DeWitt initially created her food account in November of 2019, DeWitt has been more dedicated to the aesthetic of plating her food so she can share with her followers these days. "I have definitely been more active on the account since quarantine began because I have more time to cook and to make healthier recipes that have made me a stronger and healthier athlete" DeWitt said. On her public Instagram account, which can be found by the handle @saucyyeats, an array of homemade and partially store-bought meals from different cuisines can be found. Here is an easy to follow menu for when you feel like devoting a day to homemade meals.
Breakfast: Acai Bowl
Trader Joe's Organic Acai Bowl (frozen section)
1 cup Oat Milk (or any other milk)
10 fresh raspberries
4 fresh strawberries
Blender
First, take the Acai Bowl box out of the freezer and remove the frozen contents. Use a knife to break the frozen chunk into about four or five pieces. Add this to the blender along with the extra pieces of frozen fruit included in the bowl. Next, add the milk to the blender. If needed, add more milk so it is covering the blade of the blender. Finally, add the fresh raspberries and strawberries to the blender and then blend. Once all the contents are blended together, move the contents into a bowl and smooth out the surface. Add your desired toppings and enjoy. The bowl pictured is topped with fresh raspberries and strawberries, the included granola and coconut mix, and a drizzle of honey. Other popular toppings are bananas, kiwi, blackberries, and chocolate bits.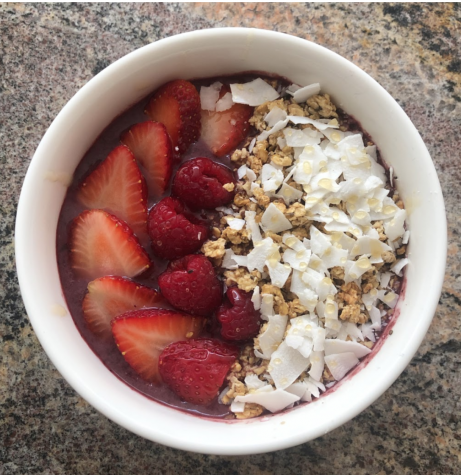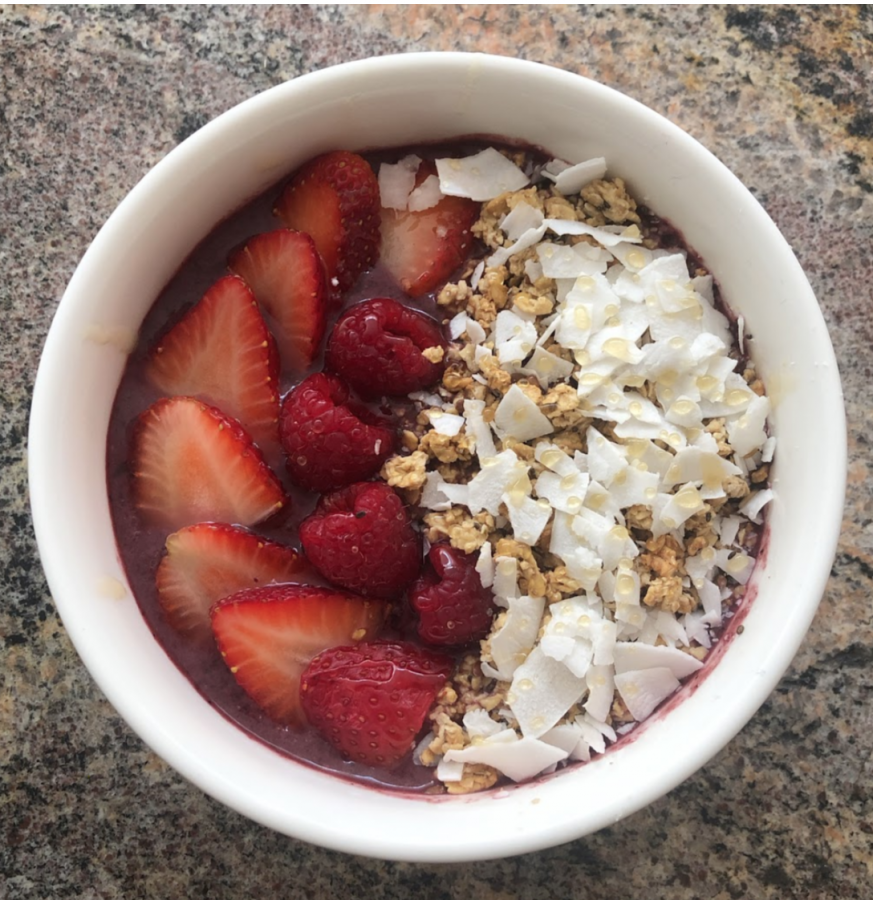 Lunch: Noodles
6 cloves of garlic (diced)
1 onion (diced)
2 cm piece of ginger (peeled and diced)
5-6 cups of water
¼ cup of tamari
4 cups of cabbage (finely sliced)
1 cup frozen spinach
¾ cup frozen green beans
2-3 tbsp of miso paste
Rice/Soba noodles
First, sauté the onion, garlic and ginger. Next, add all remaining ingredients and bring it to a boil for three to five minutes (or until the noodles are cooked and the vegetables are tender). Finally, transfer to a bowl and eat!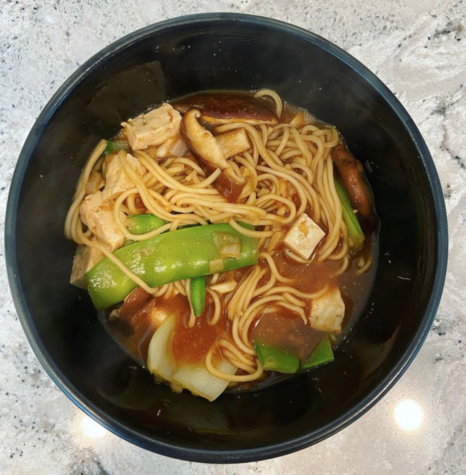 Dinner: Carbonara
8 ounces of spaghetti
2 eggs
½ cup of grated parmesan cheese
4 cups of bacon or pancetta (diced)
4 cloves of garlic (minced)
Salt and pepper to taste
In a pot, bring the pasta to a boil. Once the pasta is cooked, make sure to reserve ½ cup of the pasta water before draining. Next, whisk the eggs and parmesan cheese in a bowl. Then, in a large skillet, cook the meat. When the meat becomes crispy, remove the excess fat and stir in the garlic. Quickly add the pasta and egg mixture to the meat and garlic. Toss and transfer to a large bowl. Add the reserved pasta water to thicken the mixture until the desired consistency is reached. Add salt and pepper to taste. Plate in a bowl and top with a sprinkle of parmesan cheese before serving.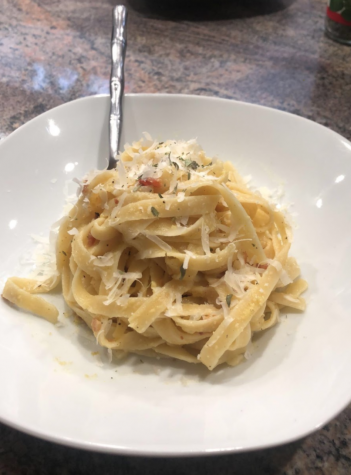 Dessert: Disneyland's Pineapple Dole Whip
1 large scoop of vanilla ice cream
4 ounces of canned Dole pineapple juice
2 cups of frozen pineapple (either store bought or fresh that was cut and put in the freezer)
Blender
First, add the frozen pineapple and pineapple juice to the blender. Blend until the majority of the frozen pineapple pieces are broken down. Next, add the ice cream. If needed, add more ice cream to thicken the mixture.Transfer the mixture to a freezer safe container and freeze for 2 hours or until it is thick enough to be scooped. Scoop the Pineapple Dole Whip and enjoy the refreshing treat!